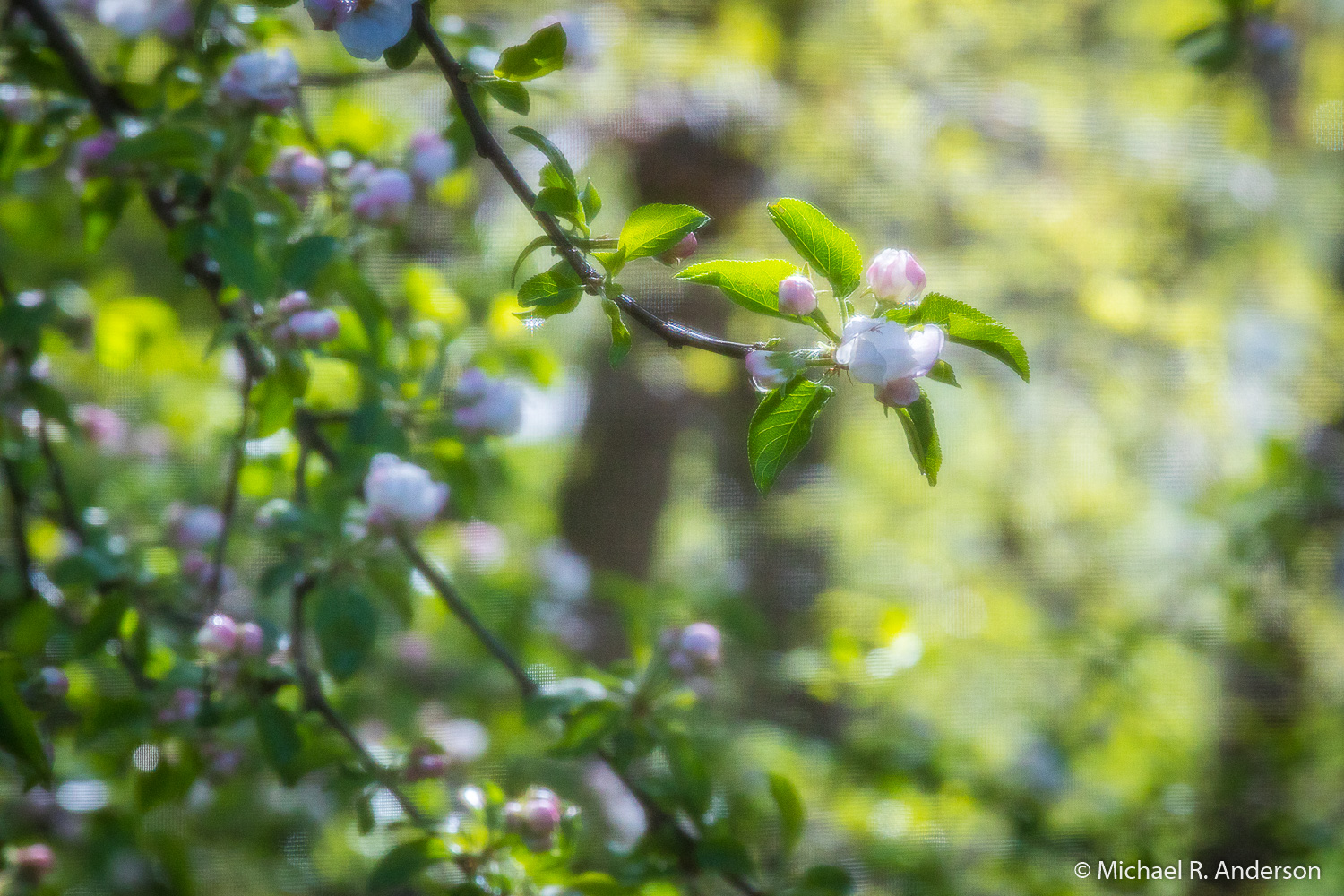 It's difficult to pass up flowers, especially in the spring!  I hope you'll pardon me for taking a break from my series of posts about Death Valley.
Yesterday was May Day.  The forecast was for rain but the morning sunlight was peeking through the clouds and striking the blossoms on our apple tree.  When I spotted it I decided to let my cereal sit so I could take some photos.  The backyard was wet.  I had no shoes on and was afraid of losing the light, so I decided to take pictures from the screened-in deck.
I think the results are interesting.  The overall images have a soft focus and the pattern of the screen can be seen in some of the lighter areas.  The sun highlighted the leaves and flowers and also gave the background an inviting spring-green glow.  I did lose the light, by the way.  In fact, it disappeared before I took my first shot. Then it reappeared to let me to take a photo or two. Then it disappeared, then it, well, you get the idea.
For the photographers out there I should mention that all of these photos were taken with a 70-200 mm Canon f/4 IS L lens at a focal length of 200 mm.  There was no significant breeze but I set the shutter speed to 1/250 to help stop some occasional slight swaying of the branches.  To obtain a small f-stop in hopes of seeing some sparkle, I set the ISO to 1250.  The resulting f-stops ranged from f/10 to f/16.  When I finished, the sun was gone, my feet were dry, and my breakfast was soggy.  But, I think some of these photos are keepers.