When you go to Death Valley National Park, you have several choices for accommodations: camp in the park, rent very expensive ($200 – $300/night if available) rooms in the park, or stay at much less expensive motels outside the park. Towns are small as well as few and far between in the vicinity of Death Valley, but one that is reasonably convenient is Beatty, Nevada.  Beatty markets itself as the "Gateway to Death Valley."  The entry to the park is only about 8 miles from Beatty, but the park Visitor Center at Furnace Creek is about 40 miles away.  So, the trade-off is driving time versus dollars.  Since we had more time than dollars, we flew into Las Vegas, rented a car, and headed northwest towards Beatty.  We didn't visit Vegas for fear that we would end up with even fewer dollars.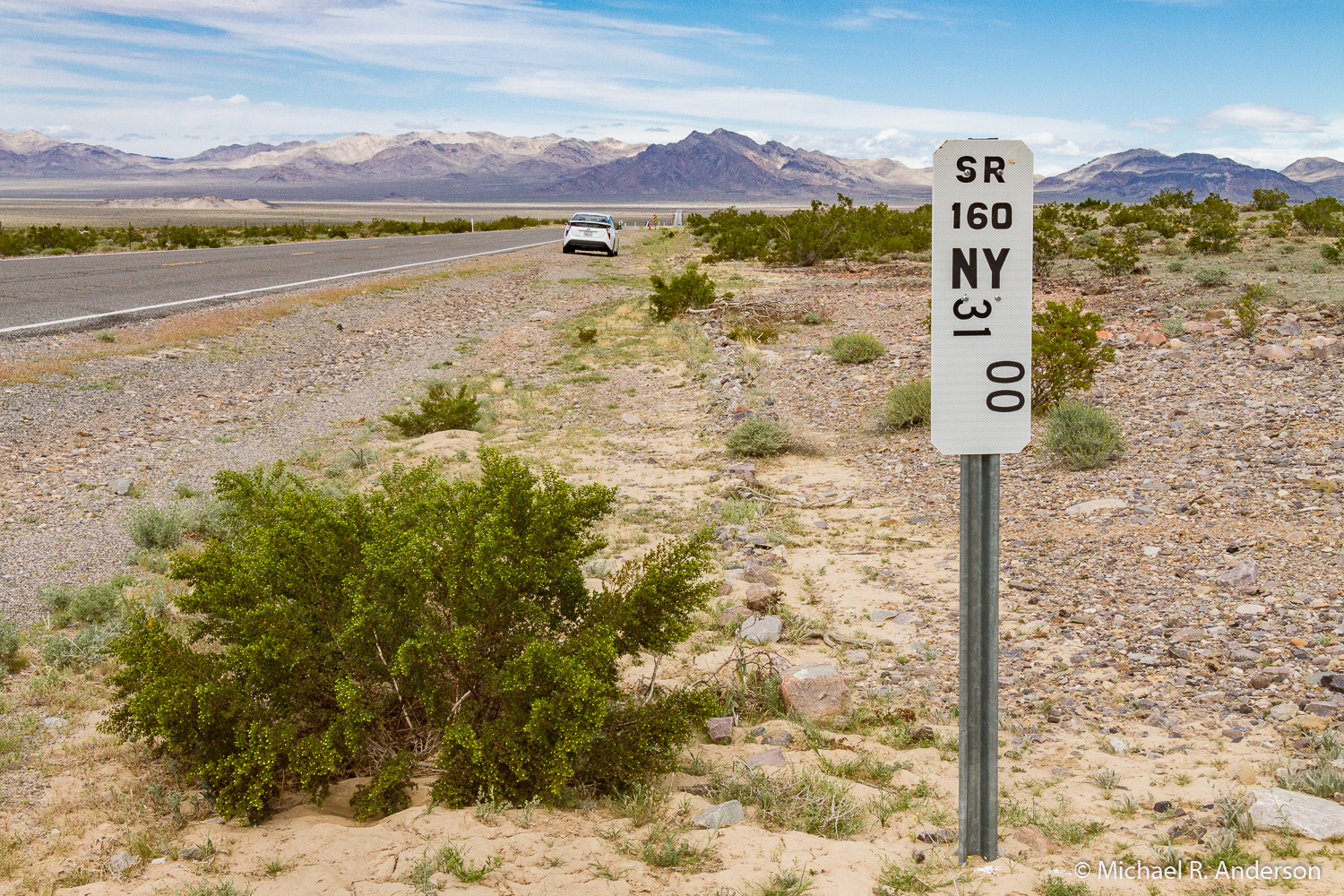 To avoid driving through Vegas we took Nevada Highway 160, which eventually connects with US 95 heading to Beatty.  Along the way Highway 160 passes through the city of Pahrump. I'm not sure if "city" is the appropriate term because, even though it's very spread out and has many houses, I don't think there's a building taller than about two stories.  Also, despite its size it is unincorporated.  According to my friend Wikipedia, Nye County, where Pahrump is located, is the 3rd largest county in the lower 48 states and it contains no incorporated cities.  We pulled off on a frontage road in hopes of finding a place to buy some ice cream.  We didn't find any ice cream but I did take a few pictures of some buildings and signs in town.
After leaving Pahrump Highway 160 meets up with US 95, which passes through the Amargosa Valley.  The road has very few turns, mountains can be seen in every direction, and the sparse vegetation is spread out in order to share the meager water supply.  Since we were told to drink a lot of water in the desert, a sign for a rest area soon attracted our attention.  As we were about to leave the rest area we noticed the World's Largest Firecracker across the street right next to the Area 51 Alien Center.  Who could pass up places like that?  We weren't interested in fireworks but we enjoyed a trip through the Alien Center, which was filled with appropriately labeled t-shirts and other out-of-this-world souvenirs.  Upon leaving the Alien Center I noticed that the building next door was the Alien Cathouse Brothel.  We had to be on our way so, sad to say, I was unable to pay a visit to this establishment.
Continuing down US 95 we finally rolled into Beatty.  The speed limit dropped to 25 mph long before reaching anyplace that appeared to need such a slow speed.  This is a sure sign that speeding tickets are an important contributor to the city budget.  Kathy kindly reminded me to slow down and later noticed a car sitting on the side of the road with a police car right behind it.
Beatty has definitely seen better days.  The buildings were well-worn; some were in disrepair and some were being repaired.  There's a new looking shopping center on US 95 in the northeast corner of town.  You can find a casino there along with a Denny's, a Subway, a nice ice cream and candy store, and a gas station.   So, if you're in need of a familiar menu you can find it.  If you want something local you can eat at Gema's Cafe, Mel's Diner, Happy Burro Chili & Beer, and other places.  We were in town for 5 nights so we hit the local and the chain restaurants.
After checking into our motel and having dinner there was still some daylight left so we decided to drive around and explore.