You don't travel all the way to Iceland just to hang out in Reykjavik, so the next day we went to see some of the famous landscape.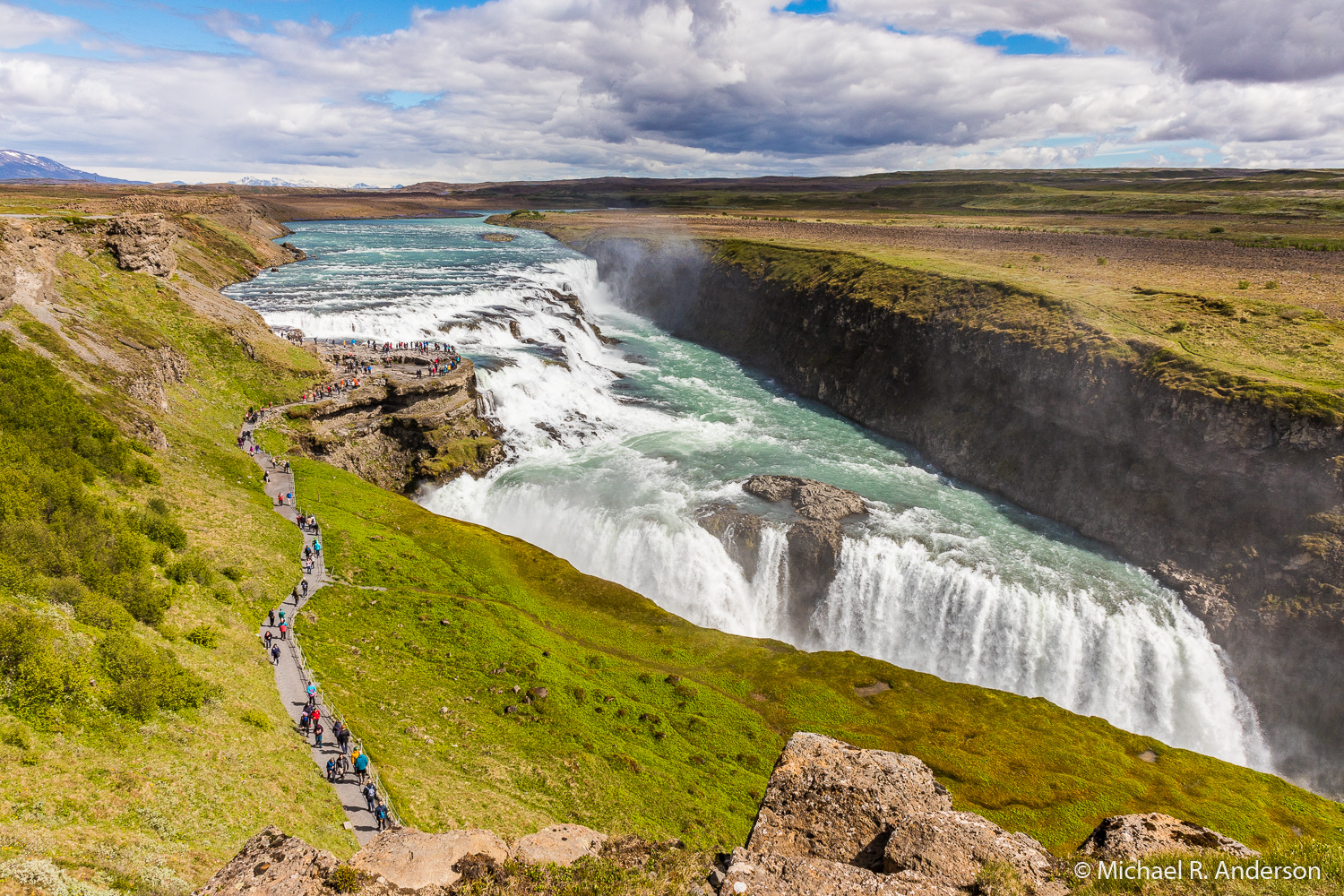 There must be hundreds of one-day tours out of Reykjavik and scores of them are for the Golden Circle. Some companies use huge buses and some use small buses. The prices were similar so we decided to go with Back to Iceland Tours. They take a maximum of 14 people and will not cancel as long as there are at least 2 people signed up for any tour. Only two other people had signed up for the day we booked so we had a nice roomy ride with a very personable driver named Thomas.
On one of our first stops Thomas pulled off the road into a small gravel lot next to a pasture. When I stepped out I saw two horses in the distance. I don't know much about horses, but I presume they were a mare and her foal. After all, if I just say there was a big one and a little one it will sound like I don't know much about horses. They walked over to get a closer look at us. The mare really had kind of a 60's-rock-star hairstyle going. I guess that's typical for Icelandic horses. We watched them trot around a bit. The mare usually stayed quite close to her foal.
Leaving the horses behind, we drove to Kerid Crater Lake, which is thought to have been formed when the loss of lava caused a magma chamber to collapse. In the photo of the lake above, look for people standing along the far rim to get an idea of the lake's size. Other stops that morning included Fridheimar Farm, where there's a tomato-filled greenhouse with boxes full of bees and a restaurant; Secret Lagoon Hot Springs, where locals and tourists enjoy soaking in 38 C (100 F) water; and Faxi, a wide waterfall that's nice but nothing to write a blog about.
The best stop of the day was at an amazing waterfall known as Gullfoss. Here a wild river makes its descent into a canyon in two stages. In the first stage it drops over a broken ledge that sits at a 45-degree angle to the direction of the river. Then, a short distance later, it drops over a second, sharper ledge that also sits at a 45-degree angle to the direction of the river and perpendicular to the first ledge. Then it flows off through the mist into a narrow canyon. Trails provide visitors with ample views from above as well as access to the base of the first drop, which is also the top of the second drop. Thomas gave us plenty of time to walk around and experience the sights and sounds of this unique place. If I were driving I would skip Faxi and spend more time at Gullfoss.
After a nice rest stop in the ice cream barn at Farmhotel Efstidalur, we headed off to our last destination,Thingvellir National Park. This is an important historic site since it was where the very first Icelandic parliament was formed in 930. It was the geology, however, that fascinated me most and made this a very close second to, maybe even tied for first with, Gullfoss. This is where continental drift is pulling the North American and Eurasian tectonic plates apart. Cracks resulting from the movement of these plates can be seen throughout the area, and the stress often generates measurable earthquakes here.
Our first stop in the park was at the Silfra fissure, which is a crack between the North American and Eurasian continents. This is a popular place for people to dive or snorkel right where the continental plates are drifting apart at about 2 cm per year. I'm not sure if there's any other place in the world where this can be done. There were quite a few divers in the area. We watched a group of men with snorkels gather for some last-minute instructions before heading out into the very cold water.
We didn't go for a swim, but our next stop was at the largest rift, Almannagjá, where we walked down a trail along the edge of the North American plate. Although this is a very popular stop for tourists, the area is so large that it never seemed crowded. It would be interesting to experience a small earthquake there; "small" being the operative word.
If you have very little time in Iceland, like we did, a one-day tour like this is a nice introduction to the Reykjavik area. I'd love to go back, however, and get close to some glaciers, icebergs, and volcanoes. Fortunately, when we got back to town, we did have time to get close to some more ice cream at Joylato.