This is a very brief summary of my photographic background.
---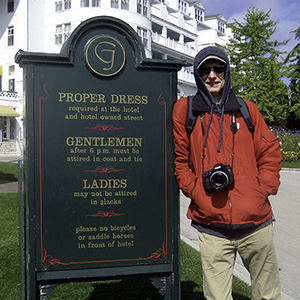 When I went to Europe in 1966 I borrowed a neighbor's Instamatic camera to document my travels.  I later bought one of my own.  In college I knew a guy who owned a 35-mm camera.  I was intrigued and, when the local camera store had a sale, I bought one of my own.  Then I joined a camera club, bought an enlarger, and started to make black-and-white prints.
Eventually my interest turned to color and I started to capture images on Kodachrome film. Since I didn't get a gold watch when I retired, I bought myself a digital camera. It was like discovering photography all over again. I have no photographic philosophy other than if the light pleases me, I try to capture it in a photograph.
Nature photos dominate my collection primarily because I like to hike and camp and generally enjoy the outdoors. When our children were growing up, of course, they became my favorite subjects. My camera doesn't get left behind when I'm in the city, however, and I have started to become a fan of street scenes and city scapes.
I'm currently a member of PhotoMidwest in Madison, Wisconsin, and have one or two exhibits a year around town, either solo or as a member of a group.  I also occasionally take photographs for the University of Wisconsin School of Music.
This website gives me a place to display and share some of my photos.  I hope you enjoy looking at them as much as I enjoy taking them.