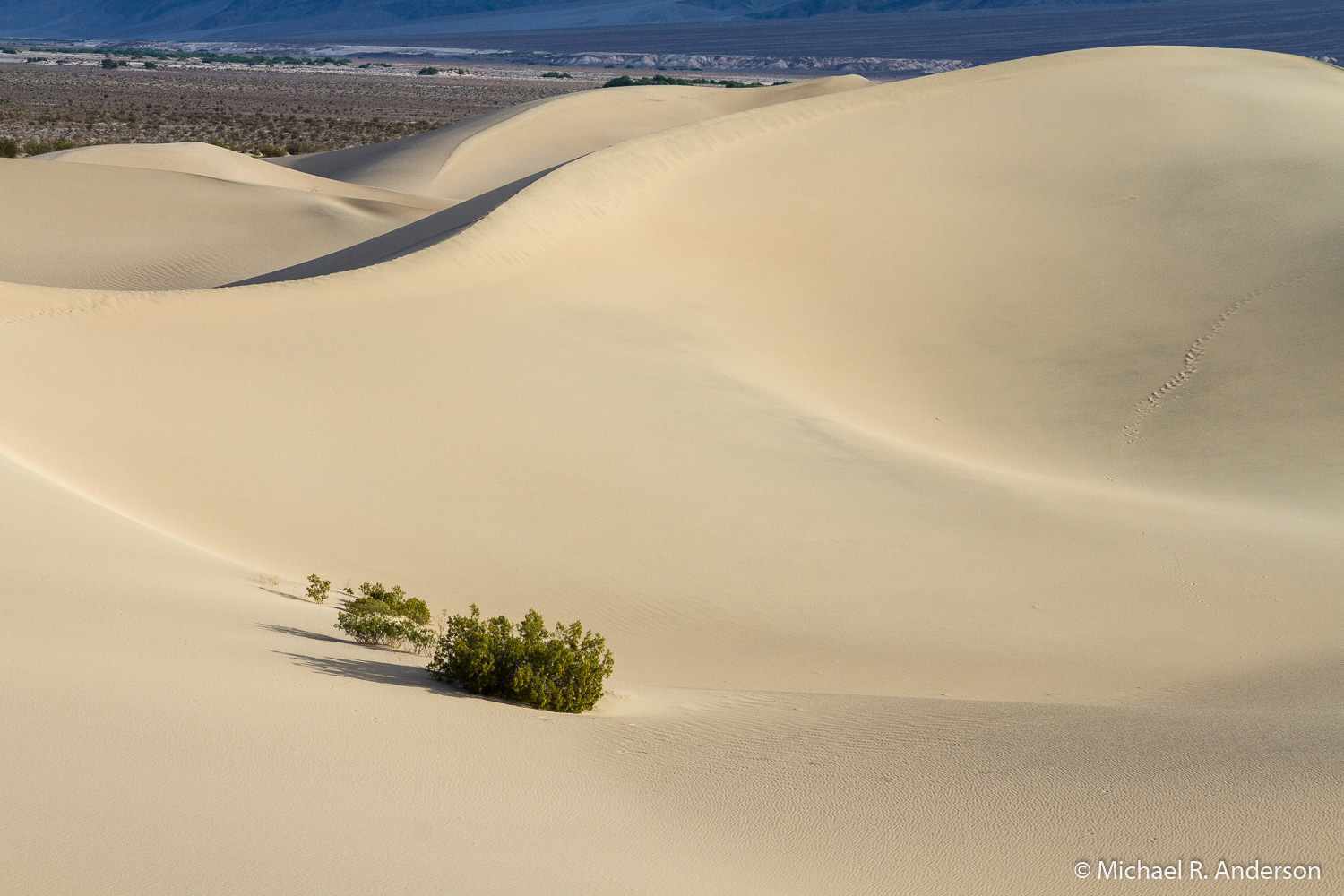 Death Valley is a big park. In fact, outside of Alaska it's our largest national park, checking in at 5,219 square miles. By comparison, Yellowstone is only 3,471 square miles. Unlike some parks that provide shuttle buses, you're on your own here. To get around and see things you really need a car, or a bike and a lot of stamina. Many of the roads require either a high-clearance or a 4-wheeldrive vehicle. These roads were not accessible to our decidedly low-clearance rental car, a Toyota Prius. Regardless of the car you're driving, however, it's always a good idea to park it, put on your boots, and hit some trails. So, that's what we did.
Mesquite Flat Sand Dunes
Death Valley is not a dune-covered landscape, so Mesquite Flat Sand Dunes provides a nice alternative to scenery elsewhere in the park. We arrived very early one morning (~5:30 AM) for a ranger-led sunrise program. The sun must have risen at some time but the overcast skies did a good job of masking its appearance. The ranger gave a nice talk about the geology, climate, and topography that produce the dunes, as well as the plants and animals that make their home here. She did not, however, take us on a hike. So, when the program was over Kathy and I headed out to experience the dunes. There isn't really a trail, just a giant sandbox in which you can walk!
Most of the other people who arrived early were not there for the ranger program. I suspect they were there to get out on the dunes before they were coated with tourist footprints. As a result, we didn't experience dunes that had been freshly refinished by the desert breezes. Except for a few curses when I took photos, it really was not much of a distraction. The sky finally cleared up and offered some wonderful views of this foreign-to-our-eyes landscape. When you climb up the dunes, the old saying "Two steps forward, one step back" quickly comes to mind.
Mosaic Canyon
The 2.4 mile road to Mosaic Canyon is near Stovepipe Wells. It is not paved, but, according to the park service, "The road is typically passable in a sedan." They didn't define typically passable. Despite my very slow speed and attempts to avoid the worst potholes, we did bottom out once. We got out and didn't see any dents or scratches, so I backed up, changed direction a bit, and we moved on.
The entrance to the canyon is wide and welcoming. The design of the canyon walls keeps changing from piles of rocks that are frozen in time to smooth marble-like walls to multi-colored twisted and fractured layers. One of the images above shows four very different surfaces on the walls of the canyon. They were all taken very close to each other.
The canyon soon narrows. In some places only one person can pass at at time. Along one stretch the walls and floor were such a smooth, slick surface that we decided it would be safer to slide down than to walk down. Unfortunately, we eventually reached a spot where the narrow canyon was thoroughly blocked with huge boulders. There was a place off to the side where some people were able to climb up around the blockage and see more of the canyon. It was the hottest part of the day (~2 PM) so we decided to just wander back. Maybe next time we'll plan to do some scrambling. Maybe…
Golden Canyon
Golden Canyon is within easy reach of Furnace Creek and, better yet, is close to the main road so you don't have to wonder whether or not the road is typically passable in a sedan. As with most of the trails, including the previous two, the trail head is marked with a large red stop sign advising you to do your hiking before 10 AM. We arrived at about 3:30 PM. Since we had water and it didn't seem extremely hot (low 80s?), we decided to walk a ways down the trail and not worry about making it to the end.
There were a few places near the beginning of the hike where the canyon is narrow and the walls steep. Most of the time, however, the canyon is relatively wide with the sidewalls sloping back from the floor. So, unlike Mosaic Canyon where we could easily find shade along one side, there was often no shade to find in Golden Canyon. It was good that we were not determined to make it to the end of the trail because the heat did get a little oppressive. The rocks looked different here than in Mosaic Canyon, not as pretty actually. There was one location, however, where the pattern in the rocks looked like the sandy bottom of the ocean. We only hiked for about an hour. Maybe next time we'll be smart enough to start hiking earlier in the day. Maybe…
Natural Bridge Canyon
The road to Natural Bridge Canyon is, not surprisingly, gravel. It's much better than the road to Mosaic Canyon and the park service also rates this as typically passable in a sedan. The trail has an uphill grade but is not too strenuous. If you only hike to the bridge and back the round-trip distance can't be more than a mile. You might want to explore past the bridge, however, because you can see where a waterfall from a previous era carved a chute down the wall of the canyon.
There are also some interesting formations along the wall that a sign at the trail head describes as looking like dripping candle wax. This forms when muddy water flows down the side of the canyon and the water quickly evaporates leaving the mud clinging to the wall.
Salt Creek
There are no long gravel roads, there are no canyon walls, there are no hills to climb, and there is no shade, but, if you're here in the winter or spring, there's water. This loop trail runs on a nearly level wooden boardwalk along the lower reaches of Salt Creek and it's only 0.8 miles long. If you don't want to climb over sand dunes or hike in rocky canyons or trek a long distance, this is a trail you should love.
It's interesting how, when you're in a desert, the sight of water is a marvelous thing. How can there be a creek in a place where it almost never rains? In this case, the water originates in springs at the head of the creek. There's enough to support grasses and other marshland vegetation but not enough for trees. About 15,000 years ago there was plenty of fresh water here in marshes and lakes. As the desert evolved, the lakes dried up and the salinity in the remaining water increased. The fish had to adapt or die. Today this is the home of the Salt Creek Pupfish, a two-inch species that is found nowhere else on the planet.
---
I hadn't expected to ramble on through five blog posts about our trip to Death Valley, but, don't worry, I'm finally done!